EXAMPLE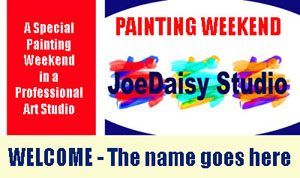 ALL Painting Vouchers are valid for 12 months from the month of purchase.
Date of Purchase is on the Voucher.
Voucher can be used for any painting course or holiday in JoeDaisy Studio UK. (Dons Yard, Mapledurham, Oxon RG4 7TP)

If you can not attend in the 12 months - please telephone us (0118 9483155) BEFORE THE 12 MONTHS EXPIRES and we will try and extend (there may be an additional small charge for extension).
There is no cash alternative.
BUY YOUR VOUCHERS HERE click
with the safest ecommerce system epdq
You get a receipt immediately and the voucher and brochure are sent by mail within 48 hours.
We Really Look Forward to Seeing YOU!! (or the recipient of your great gift!!)
PART VOUCHERS
Part vouchers can be used as payment towards the full cost of a painting course in JoeDaisy UK
Due to the high demand for Painting Days and Weekends we can not:
a) extend vouchers if you try and book when they are out of date(!) Sorry about that but this is due to demand.
b) You must book your painting day or weekend early - if you leave it too late, you will not be able to get a place.

You must bring your voucher with you and quote the Voucher Number at the time of booking.
If you make a booking with your voucher and then cancel. Usual booking terms apply.
We really look forward to seeing you in the Studio.
Tel: 0118 9483155 email