JOEDAISY STUDIO
Dons Yard, Mapledurham,
Oxon RG4 7TP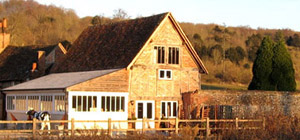 Isn't this just wonderful!!
There is parking for 8/10 cars and somewhere outside to sit to eat lunch on a sunny day. Surrounded by rolling hills, the Mapledurham house in the background and the River Thames a minute away. When you've got a momemnt - just take a walk and be inspired by the wonderful nature, huge expanses and wonderful serenity!
WELCOME TO THE STUDIO OF JOEDAISY
Tel: 0118 9483155 Studio Hours 8.30am-6.30pm Monday to Sunday (7 days week)
"The environment in the Studio is relaxing, yet inspirational. A great set up you've got there. Totally original, I think" Brian
Every student has their own space with painting table, professional easel, high stool, paints and brushes.