JOEDAISY STUDIO
Dons Yard, Mapledurham,
Oxon RG4 7TP
AS A MATTER OF INTEREST - we coined the phrase 'Bring Out the Artist in YOU!!' many years ago - we now note other companies are using this phrase. VERY ANNOYING!!
Tel: 0118 9483155 Studio Hours 8.30am-6.30pm Monday to Sunday email
WELCOME
We really look forward to welcoming you to the Studio.
"The environment in the Studio is relaxing, yet inspirational. A great set up you've got there. Totally original, I think" Brian
Every student has their own space with painting table, professional easel, high stool, paints and brushes.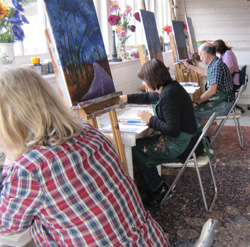 The studio is rearranged for watercolour - to paint at tables. We paint at easels (of course) for acrylics and oils.
We are a professional working art studio and we supply many paintings for hotels, offices and restaurants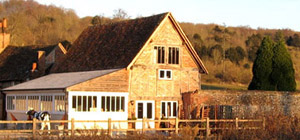 Isn't this just wonderful!!