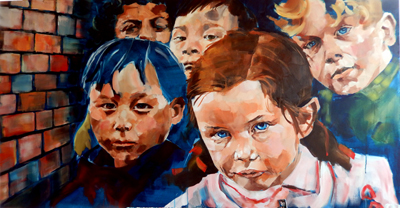 Cat is so good that she was selected to make a painting training video for Oxford University Press
Cat is an exceptional portrait and figurative artist. She can also paint anything! From portraits to abstracts to landscapes to caligraphy to reproductions. See left!
Cat is so brilliant at teaching you slowly, patiently and taking you through every step of the way (beginners) - explaining paints, brushes, marks to make etc - then when you have moved on a bit - she can advise you on how to 'loosen' up and be a lot of YOU!!
Her knowledge of painting is outstanding and she has a fantastic personality and sense of humour!
"Cat really stretched me into a new place in my head and opened doors I didn't even know existed, for me; she was great. I came away with a new sense of purpose and a whole new dimension to my painting. The tuition was encouraging and direct without being intimidating or opinionated and the high quality of materials made the whole process a real pleasure.The group was just the right size and the eclectic mix of personalities was really great; I have made some friends in the process. Thanks again for a relaxed but highly rewarding experience". Ed
Tel: 0118 9483155 JoeDaisy Studio
Studio Hours 8.30am-6.30pm Monday to Sunday