OUR DAYS - were spent in this magnificent huge chateau/gite. There is 22 hectares of land here - with our own
personal enormous lake!! Plus 2 smaller ones!
The local village (Verteillac) was hosting the local county fair and was impressively decorated with thousands
of miles of garlands in the air!



Our Magnificent Venue




Verteillac with miles of garlands




Painting one of of the terraces




The view from the terrace was stunning




Painting down by the Huge lake




By the Lake pontoon


Painting on an island by the lake



We took some trips. We went to Brantome - very beautiful town

-

here is Caroline waxing 'lyrical' about how to paint water and capturing light!!




Of course, we couldn't miss the 'sunflower' field opportunity!!




Lunch in the sunshine under the Lime tree.


The wonderful view from a dining table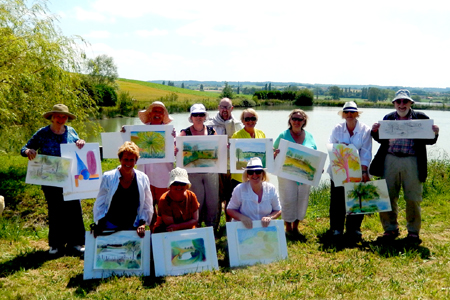 group by the lake