A very Special Abstract Painting Course
which is held in our other Studio = the Magic Easel in Mapledurham.
A 2,000sq ft professional painting space.
Each weekend has a specific topic. These are professional training courses = EACH PAINTING WILL HAVE A CONCEPT, PLAN AND STRUCTURE.
Preparation drawings will be expected for every painting.
You can sign up individually for the the weekends or sign up for a 6 month painting course. click
Thursday workshops are a complement to the abstract painting weekend and are designed to keep you painting. (with supervision and guidance)
The aim is for an Abstract Painting Exhibition in September and December 2017.
With Caroline Hulse FRSA click for details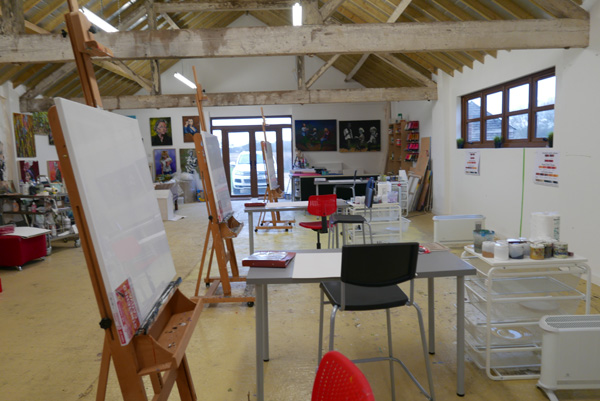 Some of the internal space = which will be set up with a space to suit you.
22/23rd July (messaging) click
12/13th August (understanding line) click
30thSept/1st Oct (working from photographs) click
28/29th October (working from concepts) click
11/12th November (analysis & understanding) click
2/3rd December (abstract painting on paper) click
Every Thursday 10-3.30pm to complement these weekend training weekends is The Abstract Workshops
With Caroline Hulse FRSA who is classically trained, a Fellow of the Royal Society of Arts, listed in the Public Catalogue and has had representation in Europe and USA
Caroline has paintings and prints in many offices, hotels, restaurants and public spaces.