EVERY OTHER WEDNESDAY = STARTING 20TH SEPTEMBER (gives you time for homework)
9.45am Arrive at Magic Easel Studio in Mapledurham, Berkshire. (Mapledurham, RG4 7TN)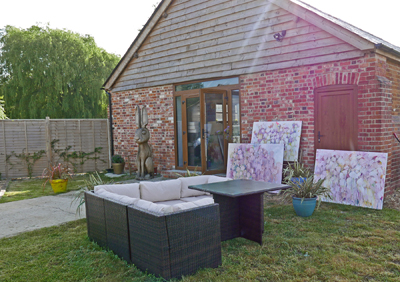 The Magic Easel studio stands deep in the heart of the Mapledurham Estate. We will send you directions.
Have a coffee, or tea. Meet your fellow artists.
10.0am Caroline welcomes you to the studio, explains the day. You are encouraged to tell us a bit about yourself (if you want to) and what you particularly want from the weekend. Everyone is nervous but there is always laughter and fun!!
Then choose your painting station. Everyone has their own painting easel, table, high stool. Professional paints, professional brushes and canvases or paper.
Tea & Coffee is available any time
Our Aim is to 'Bring out the Artist in You' - we DO NOT just paint and let you copy us. We motivate, inspire and teach originally.
12.30am Snack lunch
1.0pm Back to work!
2.30 Day Ends
WE REALLY LOOK FORWARD TO SEEING YOU!!